Jurassic World: Dominion Dominates Fandom Wikis - The Loop
Play Sound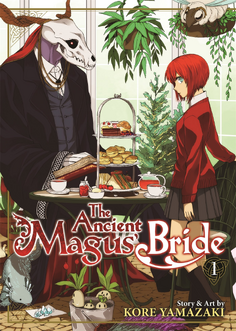 Mahō Tsukai no Yome (魔法使いの嫁), localized as The Ancient Magus' Bride in English, is a Japanese manga written and illustrated by Kore Yamazaki. The series was first published in November 2013 and was serialized by Mag Garden's Monthly Comic Blade before being later moved in September 2014 to Monthly Comic Garden. Currently, it is on its 8th volume. Seven Seas Entertainment licensed the series for publication in North America in October 2014.
The series has also been published in Italian by Star Comics since February 24, 2016; in Spanish by Norma Editorial since April 11, 2016; in Polish by Studio JG since June 2, 2015; in German by Tokyopop since October 12, 2015; and in Russian by Istari Comics since May 24, 2016.
Plot
The plot centers around Chise Hatori, a girl who has lived a life full of neglect and abuse, devoid of anything resembling love. Far from the warmth of family, she has had her share of troubles and pitfalls. Just when all hope seems lost, a fateful encounter awaits her. When a man with the head of a beast, wielding strange powers, obtains her through a slave auction, Chise's life will never be the same again.
The man is a "magus," a sorcerer of great power, who decides to free Chise from the bonds of captivity. The magus then makes a bold statement: Chise will become his apprentice–and his bride.
List of Volumes
Cover

Volume

Release Date

Volume 1

JAPANESE: ISBN 978-4-8000-0284-6
ENGLISH: ISBN 978-1-626921-87-0

April 10, 2014 (Japan)
May 12, 2015 (US)

Volume 2

JAPANESE: ISBN 978-4-8000-0361-4
ENGLISH: ISBN 978-1-626921-92-4

September 10, 2014 (Japan)
September 1, 2015 (US)

Volume 3

JAPANESE: ISBN 978-4-8000-0422-2
ENGLISH: ISBN 978-1-626922-24-2

March 10, 2015 (Japan)
December 1, 2015 (US)

Volume 4

JAPANESE: ISBN 978-4-8000-0498-7
ENGLISH: ISBN 978-1-626922-55-6

September 10, 2015 (Japan)
April 12, 2016 (US)

Volume 5

JAPANESE: ISBN 978-4-8000-0547-2
ENGLISH: ISBN 978-1-626922-84-6

March 10, 2016 (Japan)
July 5, 2016 (US)

Volume 6

JAPANESE: ISBN 978-4-8000-0611-0
ENGLISH: ISBN 978-1-626923-50-8

September 10, 2016 (Japan)
January 3, 2017 (US)

Volume 7

JAPANESE: ISBN 978-4800006585
ENGLISH: ISBN 978-1-626924-99-4

March 10, 2017 (Japan)
July 4, 2017 (US)

Volume 8

JAPANESE: ISBN 978-4800005670
ENGLISH: ISBN 978-1-626925-97-7

September 9, 2017 (Japan)
February 27, 2018 (US)

Volume 9

JAPANESE: ISBN 978-4800007278
ENGLISH: ISBN 978-1-626928-01-5

March 24, 2018 (Japan)
September 11, 2018 (US)

Volume 10

JAPANESE: ISBN 978-4800007940
ENGLISH: ISBN 9781626929906

September 10, 2018 (Japan)
February 26, 2019 (US)

Volume 11

JAPANESE: ISBN 978-4-8000-0837-4
ENGLISH: ISBN 978-1-642751-01-7

March 9, 2019 (Japan)
September 24, 2019 (US)

Volume 12

JAPANESE: ISBN 978-4-8000-0890-9
ENGLISH: ISBN 978-1-645052-01-2

September 10, 2019 (Japan)
February 25, 2020 (US)

Volume 13

JAPANESE: ISBN 978-4800009456
ENGLISH: ISBN 978-1-64505-470-2

March 10, 2020 (Japan)
October 13, 2020 (US)

Volume 14

JAPANESE: ISBN 978-4800009678
ENGLISH: ISBN 978-1645058052

September 10, 2020 (Japan)
April 27, 2021 (US)

Volume 15

JAPANESE: ISBN 978-4800010551
ENGLISH: ISBN 978-1648272721

March 10, 2021 (Japan)
October 5, 2021 (US)


Volume 16

JAPANESE: ISBN 978-4800011282
ENGLISH: ISBN 978-1638582946

September 10, 2021 (Japan)
June 7, 2022 (US)


Volume 17

JAPANESE: ISBN TBA
ENGLISH: ISBN TBA

March 10, 2022 (Japan)
TBA (US)


Volume 18



JAPANESE: ISBN TBA
ENGLISH: ISBN TBA

September 10, 2022 (Japan)
TBA (US)